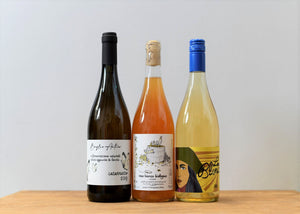 Something a little bit different to give as a gift this year. Three of our best selling orange wines. 
Baglio Antico Bianco IGP, Ciello, Catarratto (skin contact), Italy, Sicily - Flavours of citrus peel, herbs and ginger with a well rounded rich texture and long finish, this orange wine is delicious on it's own or goes perfectly with fish or curries. 
Krasna Hora, La Blanca, Czech Republic, Moravia - Field blend of Riesling, Gewurtztraminer, Sauvignon Blanc. Exotic aromas with a touch of herbaceous, lemon peel character. Very fresh with great structure from a bit of skin contact. 
Le Coste, Ripazzo Bianco, Italy, Gradoli - As vibrant as it gets! The young vines of Procanico, Malvasia and more have produced a rustic amber wine with plenty of citrus fruit, firm tannins and no shortage of energy.