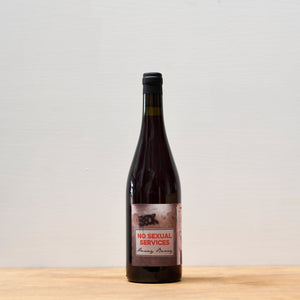 Country: Austria
Region: Burgenland 
Grape: Blaufrankisch
Viticulture: Biodynamic Farming / Natural Wine
Wine making: Manual harvested grapes are left as whole bunches to macerate in stainless steel pots for 4 days. Fermented with natural yeasts. Aged in old wooden vats for 4000L for 6 months. Unfined and unfiltered. 
The other face of Blaufrankisch – light maceration, pale pinkish-red, refreshing stemmy sour cherry fruit with mouth-cleansing acidity.
Traditionally there were small mixed farms in the area, but they always grew vines. In 1975 Matthias Beck took over from his father and started to focus on wine only, they started with 5 ha. Today the Beck estate has 15 ha of vines. In 2001 Judith took over responsibility for the cellar after gaining experience in France, Italy and Chile.