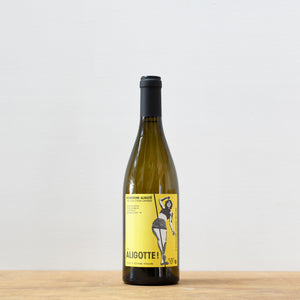 Country: France
Region: Burgundy, Hautes Cotes de Beaune
Grape: Aligotte
Vintage: 2020
Viticulture: Biodynamic Farming / Natural Wine 
Vinification: After pressing the grapes on the same morning they were handpicked, the fermentation and 10 months of aging took place in 40 and 80 hectolitres old oak foudres. In addition to the blend, 10% of final pressing (jus de presse) of Marsannay's grapes which was aged for one year in new oak 228l barrels was added before assembling.
Aligotte! 2020 is full of stone fruits and citrus complemented by white flower. Subtle sweet spices and herbs with a long mineral finish.
Aligotte! and Pinotte! are two iconoclastic new wines made especially for Burgundy specialist importer Déjà Bu by Sylvain Pataille. Sylvain is one of the most renowned vignerons of Marsannay-La-Côte, part of the talented young crowd engaged in resetting the region's attitude and direction.  He has been experimenting with biodynamics since 2013, organic viticulture since 2007, and has become a pioneer for new-wave Bourgogne Aligoté. This wine is made from 70% of grapes sourced in Échevronne in a vineyard located above the Corton Charlemagne appellation. And 30% of grapes which comes from Marsannay village in Côte de Nuits. Both terroirs are gravel soils.