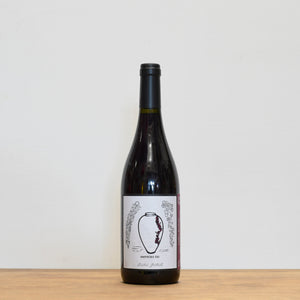 Country: Italy
Region: Puglia, Gioia del Colle
Grape: Primitivo
Viticulture: Organic farming / Natural wine
Vinification: The grapes are destemmed and fermented on skins for three weeks before being pressed into large amphora of porcelain for a short rest. 
A perfume of black cherries, iron and earth whilst the palate offers a purity of fruit and savoury note of herbs. 

Cristiano Guttarolo's vineyards are far away from the palins which often produce hot, flabby wines, on a plateau of limestone some 400 metres above sea level. It's a unique climate that has cool daytime temperatures than usual thanks to a strong breeze from the sea. This combined with the elevation means the grapes ripen slowly and fully with freshness and finesse. The wines a classic in Pugliese style with wild, sun-drenched fruit but has a lovely balance and minerality that is often missed in the region.