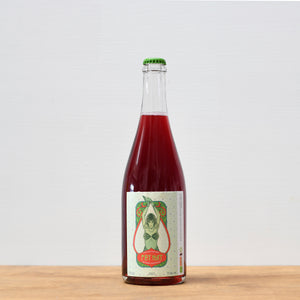 Country: Wales
Region: Monmouth
Grape: Triomphe
Viticulture: Biodynamic Farming and Natural Wine
Wine making: Very low yields around 20hl/ha. Hand harvested grapes are left as whole bunch for carbonic maceration in tank. It's made by blending the juice of the new vintage with the previous vintage base wine whilst it is still fermenting. Primary fermentation finishes in bottle producing a lightly fizzy wine. 
Incredibly purple– Triomphe is a teinturier grape - with sour cherry and blackberry jam nose and slightly herbal/medicinal back-note. Truly, the Welsh Lambrusco Rosso, with a real sweet & sour character to it and great sappy freshness. Ideal with charcuterie, blackberry cobbler.
Ancre Hill Estates, owned by Richard and Joy Morris, comprises two vineyard sites on the edge of Monmouth, south-east Wales with some 30,000 vines planted on approximately 12-hectares (29.5 acres) and a state-of-the-art, modern winery. The business has evolved from the first plantings in 2006 and 2007 at Ancre Hill, which now extends to about 4 hectares of mature vines to include Newton Court Farm, purchased in 2014, the same year as the new winery was built at Ancre Hill, where a further 8 hectares of Pinot Noir and Chardonnay has been planted. All the land was former grazing pasture – never used for agriculture and the soils are healthy and well-nourished. Ancre Hill apply a holistic approach to all activities in vineyard and winery, and practice conscientious biodynamics.