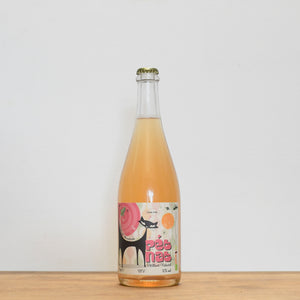 Country: Wales
Region: Monmouth
Grape: Pinot Noir Rosé base wine from previous year, 50% chardonnay juice, 50% made intermission méthode
Viticulture: Biodynamic Farming and Natural Wine
Wine making: Combination of whole bunch pressed free-run and some skin contact juice. Alcoholic fermentation in stainless steel and finished in bottle. 2022 Chardonnay blended with previous vintage base wine. 4 months on lees in bottle, riddled and disgorged before release. 
Floral nose of rose petal, quince, white peach, and citrus like satsuma and pomelo in the background. Palate is fresh and lively with a fine mousse. Ideal as an aperitif or sundowner on the beach. Serve well chilled.
Ancre Hill Estates, owned by Richard and Joy Morris, comprises two vineyard sites on the edge of Monmouth, south-east Wales with some 30,000 vines planted on approximately 12-hectares (29.5 acres) and a state-of-the-art, modern winery. The business has evolved from the first plantings in 2006 and 2007 at Ancre Hill, which now extends to about 4 hectares of mature vines to include Newton Court Farm, purchased in 2014, the same year as the new winery was built at Ancre Hill, where a further 8 hectares of Pinot Noir and Chardonnay has been planted. All the land was former grazing pasture – never used for agriculture and the soils are healthy and well-nourished. Ancre Hill apply a holistic approach to all activities in vineyard and winery, and practice conscientious biodynamics.