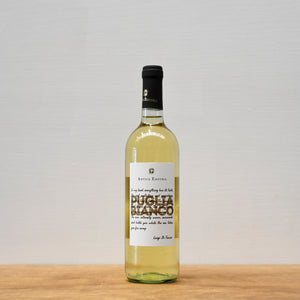 Country: Italy
Region: Puglia
Grapes: 50% Fiano, 50% Falanghina 
Viticulture: Organic Farming
Vinification: Manual harvested grapes are pressed in a pigiadiraspatrice (an old fashioned grape press). Macerated for 3 hours and then soft pressing. No malolactic fermentation, a small amount of sulphur for bottling. 
Dry, medium bodied with plenty of citrus and tropical fruits. 

Luigi di Tuccio is the winemaker after taking over from his father. Together they have transformed the ruined farmhouse on this 40-hectare plot into a working winery and barrel aging cellar. Since 1993 Raffaele has been implementing Organic farming.