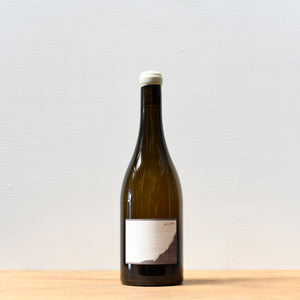 Country: Hungary
Region: Badacsony
Vintage: 2020
Grape: Furmint, Harslevelu, Keknyelu
Viticulture: Biodynamic Farming / Natural Wine  
Vinification: The grapes were harvested in various times according to their optimal ripening. Half of the Hárslevelű was de-stemmed into open fermenters, where it stayed for 8 days. The other half of the Hárslevelű, along the Kéknyelű and the Furmint were gently pressed as whole bunches. The juices fermented in different types of amphoras and aged on fine lees for 9 months. It was then blended in June and bottled in July without fining, filtration or added SO2.
Limes, pears and mangos. Vibrant and delicious with great complexity. 
The vineyards are situated on the Szent György hill, in Badacsony, north of the lake Balaton, on south-east facing slopes at 118 to 180m altitude. The soil is made up mainly from volcanic basalt with a mix of clay, loess and sand. In the cellar, István likes to take a step back and let the wines ferment spontaneously mainly in amphoras. He prefers not to use any additives in order to preserve the original personality of the varieties and the unique minerality of the volcanic soil.