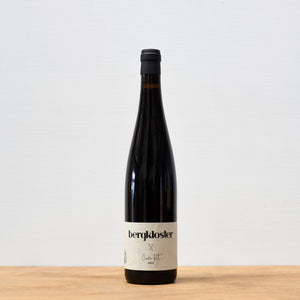 Country: Germany
Vintage: 2020
Region: Rheinhessen
Grape: St Laurent, Regnet and Cabernet Dorsa
Viticulture: Organic Farming / Natural Wine 
Winemaking: Grapes are gently crushed and ferment in an open vat for 2 weeks. After pressing two-third of the juice ages in large oak, the rest in stainless steel. 9 months later it is bottled, without any filtration nor addition of sulphites. 
Full of juicy cherries, black current and a hint of rhubarb, followed by electric acidity and crunchy finish.
5th generation wine maker Jason Bergkloster is a young and passionate producer in the heart of one of Germany's oldest wine regions. He's putting everything into low intervention wine making using his organic grapes to bring out every bit of personality the terroir has to offer. An approach that many from the region have always overlooked.