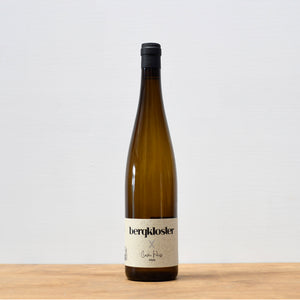 Country: Germany
Vintage: 2020 / 2021
Region: Rheinhessen
Grape: Bacchus, Chardonnay, Weissburgunder, Grauburgunder, Huxelrebe
Viticulture: Organic Farming / Natural Wine 
Winemaking: Bacchus, Huxelrebe and Chardonnay were fermented on the skins individually. Weissburgunder and Grauburgunder had little and no skin contact. After 9 months of maturing, the juices are blended together without any filtration or fining. 
A delicious wine with apples, pears and underlying citrus. Minearlity runs through to a long lasting finish. 
5th generation wine maker Jason Bergkloster is a young and passionate producer in the heart of one of Germany's oldest wine regions. He's putting everything into low intervention wine making using his organic grapes to bring out every bit of personality the terroir has to offer. An approach that many from the region have always overlooked. 
ABV 10.5%