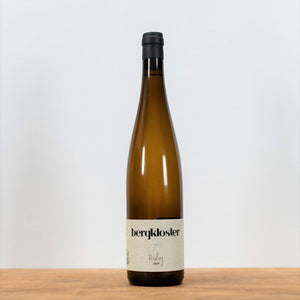 Country: Germany
Vintage: 2019
Region: Rheinhessen
Grape: Riesling 
Viticulture: Organic Farming / Natural Wine 
Winemaking: The grapes for this wine come from the renowned village of Westofen. Hence this Riesling can be categorised in the German equivalent of the French "village" level. The grapes were hand harvested early to maintain the crisp acidity levels. Most of the grapes were pressed directly, to retain varietal purity, although one part has been fermented on skins to enhance the phenolic structure of the whole wine. They mature in large oval oak for 9 month on the lees, to enhance the longevity off the wines. Gets bottled without fining, filtration or the addition of sulphites.
Juicy quince with drops of lemon pill and long vibrant finish. A must try for natural riesling fans.
5th generation wine maker Jason Bergkloster is a young and passionate producer in the heart of one of Germany's oldest wine regions. He's putting everything into low intervention wine making using his organic grapes to bring out every bit of personality the terroir has to offer. An approach that many from the region have always overlooked.