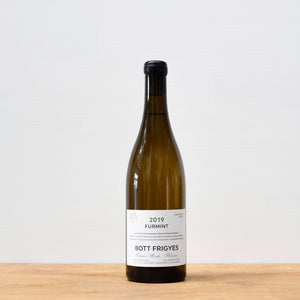 Country: Slovakia
Region: Garam Valley
Grape: Furmint
Viticulture: Organic Farming and Natural Wine
Wine making: After hand harvest the bunches are pressed as whole in a vertical basket press. Then, the juice is transferred by gravity to various sizes (225l, 300l and 400l) of Zemplén oak barrels. This is where it ferments spontaneously and ages on the lees for 8 months.
Fresh citrus fruits with an underlying minerality and yet floral at the same time. Crisp and elegant and one of the best vintages for a decade. 
Bott Frigyes cultivates 10 hectares next to the River Garam, at a height of 250 metres above sea level. The vineyards are located on the southern slopes of the Muzsla Hills, in the heart of the historic wine region. The soil is made up of a clay layer on top of a volcanic bedrock, rich in limestone and minerals. He trains the vines on a low cordon system in order to enhance the microflora on the grapes. For fermentation and ageing he prefers to use various sizes of old Hungarian oak. The aim is to make exciting and elegant wines, which express the terroir to the fullest.