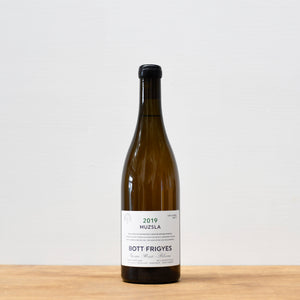 Country: Slovakia
Region: Garam Valley
Grape: Riesling, Pinot Blanc and Sauvignon Blanc.
Viticulture: Organic Farming and Natural Wine
Wine making: Made using natural yeasts with a combination of skin contact and no skin contact. Aged on lees and bottled unfined and unfiltered. 
A wine that is packed with flavour and structure. Oranges and cinnamon with underlying minerality and complexity from the lees. 
Bott Frigyes cultivates 10 hectares next to the River Garam, at a height of 250 metres above sea level. The vineyards are located on the southern slopes of the Muzsla Hills, in the heart of the historic wine region. The soil is made up of a clay layer on top of a volcanic bedrock, rich in limestone and minerals. He trains the vines on a low cordon system in order to enhance the microflora on the grapes. For fermentation and ageing he prefers to use various sizes of old Hungarian oak. The aim is to make exciting and elegant wines, which express the terroir to the fullest.