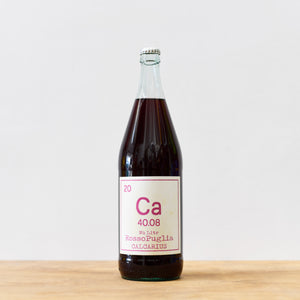 Country: Italy
Region: Puglia
Grape: Negroamaro
Viticulture: Organic Farming / Natural Wine
Wine making: Manual harvested grapes are destemmed and fermented using native yeasts. Matured in stainless steel tanks. Unfined and unfiltered with a very small amount of sulphur added. 
Wild and true Negroamaro, dense and spicy, very elegant with smooth tannins that closes on the palate leaving a clear memory of the sea. Amazingly daily wine with disarming drinkability.

Based in Apricena, Gargano National Park where limeston is the distinctive element of the terroir. After years of studying the land Valnetina Passalacqua decided she should isolate the plots of their vineyards characterised exclusively by Kimnmeridgian Calcareous soils. From this Calcarius was born. Terroir driven, mineral wines. Totally unique indigenouse varieties. Mediterranean climate. 
Label info - Ca for Calcium with atomic number 20 and atomic weight 40.08. 
ABV 11.5%