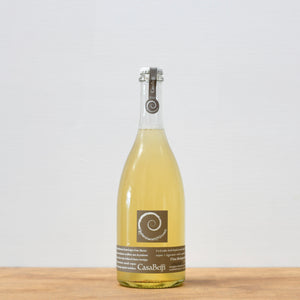 Country: Italy
Region: Veneto
Grape: Glera
Viticulture: Natural Wine / Organic Farming 
Winemaking: Manual harvested grapes are fermented using indigenous yeast in stainless vats. Aged on lees for six months in stainless vats followed by second fermentation in the bottle. Unfined and unfiltered. 
The wine is light bodied, bone-dry and, without filtering or clarification, as hazy as a blizzard in a snow globe. Straw yellow with greenish hues, it has fine and persistent bubbles and flowery and fruity scents accompanied by notes of citrus, yeast and baked bread. The lees at the bottom of the bottle offer the wine softness, mouthfeel and longevity and can be shaken into the Prosecco to give a buttery-spicy flavours.
About: Situated in the Treviso province, Casa Belfi does everything naturally and organically using biodynamic principles as well. The philosophy behind the project is the respect of natural processes and traditions like ageing in amphorae and bottling according to Maria Thun Calendar. The winery is Biodynamic certified.