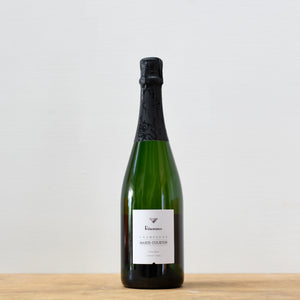 Country: France
Region: Champagne 
Vintage: 2017
Grapes: 100% Pinot Noir 
Viticulture: Biodynamic Farming / Natural Wine 
Vinification: Manual harvest and the grapes were left whole for the fermentation • Fermentation in an enamelled steel vat, with wild yeasts • Temperature controlled. • The malolactic fermentation took place. • The wine spent three years on rack producing its bubbles and ageing. • No filtration and no fining. • One racking took place after the alcoholic fermentation. • Minimal sulphur used. • No dosage.
Rich and ample on the palate with terrific freshness, this is another gorgeous and deeply expressive Champagne from Dominique Moreau. The orchard fruit, crushed stone and floral notes are beautifully focused throughout. The saline-drenched finish only adds to the wine's considerable appeal.
Dominique Moreau was born and bought up in the champagne region. She explains that there, everyone had a piece of land and also vines- it was the norm. Her great-grandmother, Marie Courtin, farmed her land herself, using a horse, during the First World War while the menfolk were away on the front. Dominique's estate is located on land that was always been owned by her family, but they had rented it out to tenant farmers and she explains that, from the age of 18 years-old, she was always working on the land amongst vines somewhere. She worked part-time as a teacher in a professional viticulture school at the beginning of her adult working life, and spent the hours during which she was not teaching, farming vines. She took over the family estate in in 2000 when the previous tenant farmers took their retirement. She began converting her vines to organic farming in 2005.