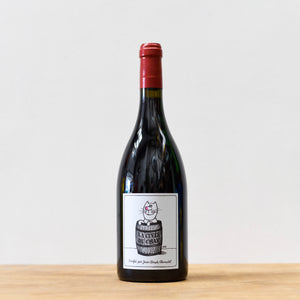 Country: France
Region: Beaujolais
Grape: Gamay
Viticulture: Natural Wine / Organic Farming
Wine making: Handharvested grapes are fermented whole bunch with semi-carbonic maceration. Wild yeasts used in polyester vats. 9 months aging in old oak foudres. Very light filtration and no fining with very little sulphur added.
Deep red-purple in colour. Wild berries, sappy redcurrant fruit, mint and some earthy character on the nose. Fresh, light and juicy.

Chateau Cambon was bought by Marcel Lapierre and Jean-Claude Chanudet in 1995 and begin the daunting job of restoring the estate from a bankrupt chateau in disrepair to a working winery and vineyard. Since Marcel's death in 2010, it is now owned and administered by Marcel's wife, Marie, and son, Mathieu, in association with Jean-Claude Chanudet. The vines used to make this wine used to belong to Jules Chauvet; one of the first winemakers to promote Sulphurfree wine production, and a mentor to Marcel Lapierre. Marie and Jean-Claude bought the tiny 2.5ha parcel in 2010. The wine is named Cuvée du Chat after Jean-Claude Chanudet whose nickname is 'Le Chat'.