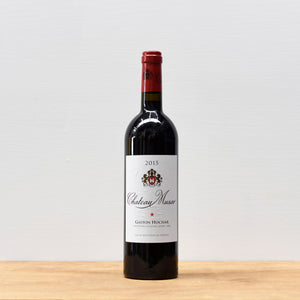 Country: Lebanon
Region: Bekka Valley
Chateau Musar Red 2015 is a blend of Cabernet Sauvignon, Carignan and Cinsault from vineyards near the Bekaa Valley villages of Aana and Kefraya. The varietal components in Chateau Musar Red undergo lengthy fermentations in cement vats at temperatures below 30°C. 6 months after the harvest they are transferred into French barrels (oak from the forest of Nevers) for one year. They are then blended together back into concrete vats where they spend another year maturing. Finally the wine spends 4 years in bottle at Chateau Musar before it is released. 
A very attractive bright ruby in colour filled with very ripe fruit and rich, gamey aromas. Great balance and freshness. 
Chateau Musar Red is a nautral, vegan wine.