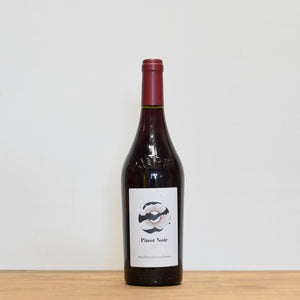 Country: France
Region: Jura
Grape: Pinot Noir 
Viticulture: Organic Farming / Natural Wine  
Vinification: Grapes are hand harvested and destemmed. They are fermented with indigenous yeasts at ambient temperatures. CO2 filled tanks are used in the winemaking to retain freshness. No oak is used. A very small amount of CO2 when opening the bottle which clears with a short aeration. 
Light in colour and body. Amazing freshness and elegance. Lots of juicy red fruits and cherries. 

Marie-Pierre chose a career in wine and after wine studies in Beaune and an oenology degree at Dijon she worked in New Zealand, Châteauneuf-du-Pape and Champagne before returning to work in the Jura for several years as cellar manager in a local co-op. Les Granges-Bernard is a wonderful old Jurassien farm surrounded atmospheric cellars at the farm are full of old wood from large foudres down to fûts and feuillettes.