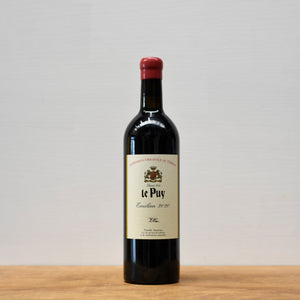 Country: France
Region: Bordeaux, Saint Emillion
Grape: Merlot blend
Viticulture: Biodynamic Farming / Natural Wine 
Vinification: 
Grapes are destemmed // fermentation happens in a cement tank // aged in oak vats (Foudre) for 12 months // further 12 months in oak barrels // a tiny amount of sulphur is added at bottling. 
Clay-silt with a clay-limestone substrate on the rocky plateau of St-Emilion.
The 2020 is full bodied with fresh ripe dark fruits and prunes. The tannins are well integrated already with a pallet full of plums. Easily could age for a decade but is also tasting amazing now.
Steeped in history, Le Puy was first built in the early 17th century. Despite the march of time, production here harks back to an older era. Unlike most Bordeaux wines, which are blended from several grapes, this estate crushes grape varieties together allowing the indigenous yeasts from different parcels and grapes to combine. This provides an extra layer of complexity during their natural fermentation process. These wines are capable of maturing for decades.