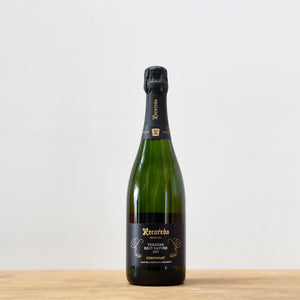 Country: Spain
Region: Barcelona
Grapes: 57% Xarel.lo, 37% Parellada, 6% Macabeu
Viticulture: Biodynamic Farming / Natural Wine 
Vinification: Manual harvested • 5% of the blend aged in oak casks • Secondary fermentation in bottle • Aged in bottle for a minimum of 34 months • Riddling by hand. Disgorged by hand • Secondary fermentation takes place in the bottle with their own organic must or with organic concentrated must for all of the Corpinnat wines since 2017 vintage, in place of the sugar cane previously used. 
Pale yellow in colour with golden tinges. The nose is pure and elegant with deep mineral notes combined with aromas of white fruit, white flowers and smoke and dry fruit. The very fresh palate has a crisp and well-defined structure which is dry and smooth at the same time. The bubbles are perfectly integrated, and the wine has a long finish with delicate notes of aniseed and white fruit, nuanced by a smoky touch.
For almost a century, Recaredo has maintained a firm commitment to produce terroir wines that reflect the landscapes of the Alt Penedès (Barcelona) as honestly and transparently as possible. They make only vintage brut nature sparkling wines with a distinctive character marked by long ageing. As a result of the proximity of the Mediterranean, Recaredo's vineyards experience mild winters and hot, dry summers. The area has a temperate Mediterranean climate, with an average annual rainfall of approx. 530 mm. Made with grapes from vineyards that grow in highly calcareous, loamy soils. The soil provides good levels of drainage in the upper areas and a higher water retention capacity in lower areas, where the soil depth is also greater.