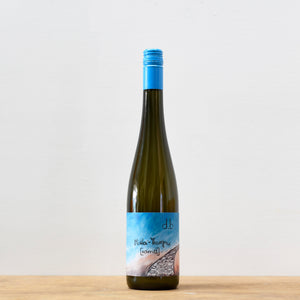 Country: Germany

Region: Rheinhessen
Grape: Muller Thurgau
Viticulture: Biodynamic Farming and Natural Wine
Wine making: Hand harvested grapes. Grapes are destemmed, 50% pressed directly, 50% spend 5 weeks on skins. Indigenous yeasts and ambient ferment in neutral oak barrels. 1200L used barrels for maturation. Malolactic fermentation done, unfined, unfiltered no added SO2. 
Light amber-tinted wine with beguilling notes of grapefruit and pineapple, very refreshing, almost tangy finish. 

The Schmitt winery has been in the family for over 230 years with Bianka and Daniel working their 16 hectares for the last decade. They work in full biodynamics which they learned from Alsace vigneron Patrick Meyer and are one of only 80 producers in Germany to be Demeter certified. The Rheinhessen is one of the driest of all German regions and Wonnegau belongs to the sunniest and driest part of it. The most important vineyards of called Frauenberg and Goldberg, where very large limestone pieces form a bedrock under 30-40 cm of loess and clay. 16 hectares are spread over numerous parcels in three different villages: Florsheim-Dalsheim; Monsheim and Kriegsheim. The maximum elevation of the vineyard in 230 m above sea level.