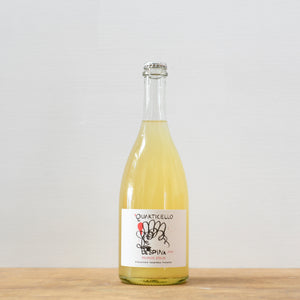 Country: Italy
Region: Emilia-Romanga 
Vintage: 2020
Grapes: Malvasia di Candia
Viticulture: Organic Farming / Natural Wine
Winemaking: Grapes are hand-picked from young vines planted over gravel. Natural yeast fermented in cuve, followed by Roberto Maestri adding a little must from the same vineyard before bottling to begin second fermentation (like a Pet Nat). This fermentation happens in the bottle and is not disgorged with lees left in the bottle. 
An absolute delight of a wine. Lightly sparkling, cloudy and full of flavour. It's packed with grapefruit and salty minerality. 
Roberto works organically on five hectares of vines sat on clay-gravel soils. Roberto's wines are deceptively simple, but always delicious, with eating well and good times in mind. Ultimately, they excel in refreshment and make so much sense on any table groaning lined with salumi or cheese.