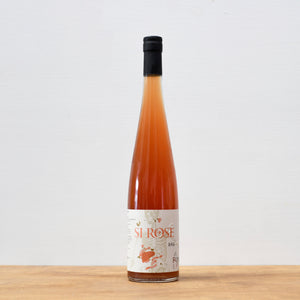 Country: France
Region: Alsace
Grape: Gewurztraminer and Pinot Gris
Viticulture: Biodynamic Farming / Natural Wine
Winemaking: Gewurztraminer grapes and Pinot Gris grapes go through some fairly length skin maceration to extract this amazing colour. Natural yeast fermentation, maceration and ageing took place in old oak barrels with ambient temperature. Unfined, unfiltered with no added sulphur. 
Amazingly perfumed with aromas of rose, grapefruits and apples. Vibrant in colour with deep and complex structure. Pure romantic craftsmanship. 
Winemakers since 1770, the family operates 11 hectares of vineyards in and around Alsace including some prestigious Grand Crus. Monique, Beatrice and Joseph Christian Binner have divided the various tasks on the estate with the help of two further employees, Christian and Philippe.