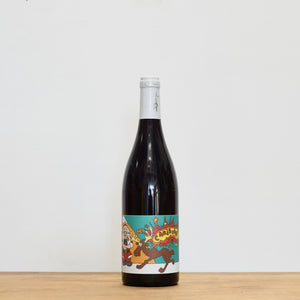 Country: France
Region: Jura
Grape: This blend of roughly equal parts of Carignan and Grenache comes from the biodynamic vineyards of Claude Ughetto in the Vaucluse.
Viticulture: Biodynamic Farming and Natural Wine
Wine making: The former pressed directly and the latter infused as whole bunches for three weeks. After pressing, the wines were assembled in cuve to rest until the following spring.
The result is a light, bright and perfumed wine with notes of red cherry, citrus and bitter herbs that pile on the charm.

Alice Bouvot was trained in Bordeaux and Burgundy but when it came to starting her own domaine, the Jura would be the place. Since 2004 she has been farming a small parcel doing everything by hand retaining biodiversity throughout. She also buys grapes from trusted friends to create the large number of cuvees she makes each year. Approach in the winemaking evovles from the fruit that arrives each vintage. Nothing is added at any stage.