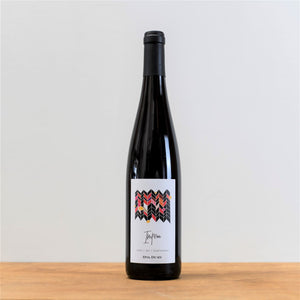 Country: Czech Republic 
Region: Moravia
Grape: St Laurent, Frankovka
Viticulture: Natural Wine / Biodynamic Farming
Wine making: Maceration for 4-5 weeks in open wooden vats on skins. Then aged for 1 year in combination of used oak and acacia barrels. 
Juicy, crunchy takes on these varieties. Unique soils, volcanic rocks give this wine complexity and depth. 
Dva Duby winery is led by head winemaker Jiri Sebela based in Dolni Kounice, small town on Southern Moravia (close to the borders with Austria), since medieval times famous place for very unique vineyards producing excellent red wines, especially Blaufrankisch, also called Lemberger or Frankovka. Hillsides of the river are covered with the vineyards but to understand the magic of the place you have to go deeper. The vineyards are based on Granodiorite, the volcanic stone which is the essence of local terroir. It's pre Cambrian age, 700 million years old. Much older than Bordeaux, much older than Burgundy. This solid rock is present in all vineyards in various depths. It's usually 2,5 metre but in some places it's just 40 centimetres. This terroir gives volcanic reds of real intensity, trademark savoury notes, mineralogy and supple acidity. Complex but light-footed at the same time.