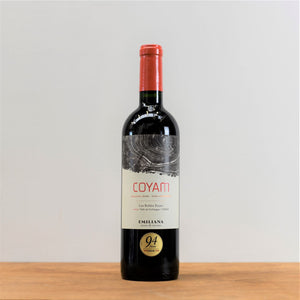 Country: Chile
Region: Colchagua Valley
Viticulture: Natural Wine / Organic Farming
When it comes to organic and biodynamic wines in Chile, Emiliana are the pioneers and still leading the way. They have been producing award winning wines since 1999 following natural wine making techniques. Emiliana Coyam is a field blend of all the best grapes from the Emiliana vineyards. These are all carefully picked and then fermented in stainless steel vats with their native yeasts, Maceration lasts for 25 days with malolactic fermentation occurring naturally in oak barrels with 14 months of maturation. 
This is a complex wine packed full of cherries and plums with underlying pepper and leather. It's rich and full bodies with a perfectly balanced acidity and long finish. 
Emilian Coyam is a natural wine, organic wine, vegan wine from Chile.