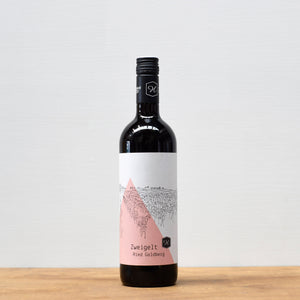 Country: Austria
Region: Wagram (Goldberg)
Grapes: Zweigelt
Viticulture: Organic farming 
Vinification: Fermented in stainless steel tanks for 12 days with pumping over. Matured in used small oak barrels (225L) for 38 months. "Goldberg" consists of several groups of hills with deep Loess soil. A special characteristic of Loess soil is the valuable ability to store Water, which has especially in arid times many advantages. On one side are the warm southern slopes, on the other side the cooler northern slopes: This combination makes the "Goldberg" to one of the most interesting locations.
The Zweigelt Goldberg is characterised by a very dark cherry red, tender tannins and a delicate play of acids on the palate.
The Eshenhof Holzer winery is located in Grobriedenthal in Wagram. This is where Arnold Holzer creates this range of unique and characterful wines. He's fifth generation farming this small estate. The loess clay soils give the wines lots of fruitiness and richness, perfect for making natural wines.