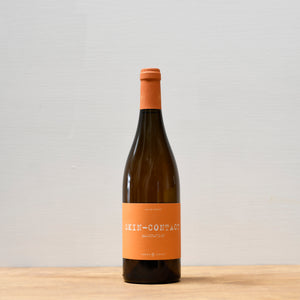 Country: France
Region: Mas de Perlier (near Cahor)
Grapes: Ugni Blanc, Gros Manseng & Muscat
Viticulture: Biodynamic Farming / Natural Wine 
Winemaking: The Jouves Skin Contact is made with hand picked grapes and with natural wine making methods. The skin contact lasts for 3 months in stainless steel. As with all of Fabien's wines, there's no fining, no filtration and minimal addition of sulphites. 
Lots of exotic fruits and citrus peel. Complexity and structure with plenty of tannins make this a compelling drink. For an orange wine lover or for anyone who wants to try some! 
Fabien has repeatedly been told by the Cahor AOC regulators that he will never achieve an AOC status because of his experimental varieties and aging methods (or lack of them). The You Fuck My Wine pays homage to the ongoing fight between himself and the officers in charge of the appellation. It is reported that these arguments have been very heated at times.