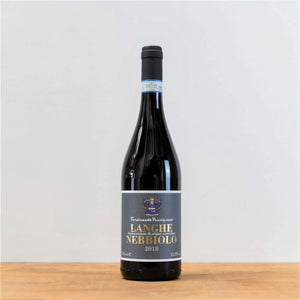 Country: Italy
Region: Piedmonte
Grape: Nebbiolo
Viticulture: Organic Farming / Natural Wine
Winemaking:  The wine is produced with natural yeasts and is unfined and unfiltered, leaving the expression of the terroir to come through in the glass. 
Medium bodied, bursting with cherries, floral notes and vanilla.
Ferdinando Principiano is located on the Southern fringe of the Barolo region in Langhe. An amazing value alternative to Barolo, Ferdinando has been steering away from conventional wine making since 2003 and now uses only wild yeasts and low intervention. The result is purity and expression in his wines.