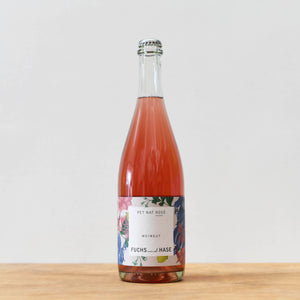 Country: Austria
Region: Kamptal
Grape: Zweigelt and Cabernet Sauvignon
Viticulture: Organic Farming / Natural Wine 
Winemaking: Manual harvested grapes are left as whole bunches and co fermented on skins for 1 week. Fermented in stainless steel tanks with wild yeast. Bottled with an addition of juice for second fermentation to occur inside the bottle.
Fresh and fragrant with notes of grapefruit and ripe raspberry with a touch of herbs and subtle gooseberry. On the palate, the wine is quite dry, crisp and juicy with rhubarb and lime flavours, subtle effervescence and a fine structure.
Very close friends Alwin & Stefanie Jurtschitsch and Martin & Anna Arndorfer founded the new winery, Fuchs und Hase, producing exclusively Pet Nat. They started by selecting a site at altitude, to ensure a cool climate, promoting naturally high acidity and low alcohol. The whole idea of starting to produce Pet Nat was to make sparkling wine without adding anything, not even sulphur, and to still gain a wine which is refreshing to drink, shows its origin and vibrancy. Fuchs und Hase means 'Fox and Hare', this is a nod to an Austrian saying 'where fox and hare say good night' and refers to an area surrounded by forest.