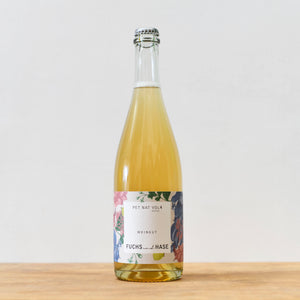 Country: Austria
Region: Kamptal
Grape: 70% Muller Thurgau, 30% Gruner Veltliner
Viticulture: Organic Farming / Natural Wine 
Winemaking: Manual harvested grapes are left as whole bunches and co fermented on skins for 2 weeks. Bottled when an ideal residual sugar level is still present for a second fermentation. Bottles are turned upside down for a couple of days and manually disgorged and topped up with the same pet nat. 
Light brown-orange colour. On the nose it is restrained with aromas of ripe apples, stone fruit and dried fruit; extra dry on the palate, slightly astringent.
Very close friends Alwin & Stefanie Jurtschitsch and Martin & Anna Arndorfer founded the new winery, Fuchs und Hase, producing exclusively Pet Nat. They started by selecting a site at altitude, to ensure a cool climate, promoting naturally high acidity and low alcohol. The whole idea of starting to produce Pet Nat was to make sparkling wine without adding anything, not even sulphur, and to still gain a wine which is refreshing to drink, shows its origin and vibrancy. Fuchs und Hase means 'Fox and Hare', this is a nod to an Austrian saying 'where fox and hare say good night' and refers to an area surrounded by forest.