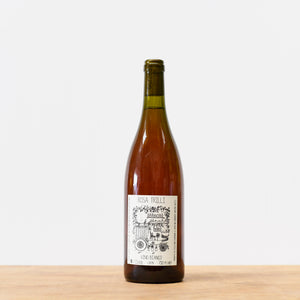 Country: Italy
Region: Lazio
Grapes: white (Procanico) and red (Sangiovese) 
Viticulture: Natural Wine / Organic Farming
This rosato is a roughly even blend of white (Procanico) and red (Sangiovese) grapes that spent five days fermenting on the skins, before being pressed off to vat until May.
A gorgeous, deep ruby, it really impresses with its little red fruits, fine tannins and a refreshing, blood orange bitterness.
Trish lives in a small cottage in Località Gazzetta on the hills above the village of Bolsena in Lazio's north. In this beautiful spot with views across Lago di Bolsena she farms two hectares of old vineyards planted with Procanico and Ansonica, with a little Malvasia and Moscato scattered throughout. The lake is one of the largest volcanic lakes in Europe and is blessed with an interesting microclimate due to the special wind patterns created by this great mass of water as it heats and cools. The vineyards sit between the Mediterranean Sea and the Apennine Mountains, which makes for a temperate climate kept fresh by mountain breezes. The soils, mainly ash and sand of volcanic origins, possess an interesting minerality that each variety expresses differently.