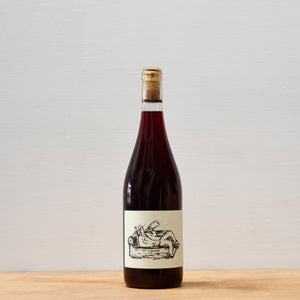 Country: Australia
Region: Adelaide Hills
Grapes: Pinot Noir and Pinot Gris
Viticulture: Biodynamic Farming / Natural Wine
Vinification: Manual harvested grapes are whole cluster co-fermented in stainless steel. 2 weeks on skins. Aged in stainless steel with malolactic fermentation. 
Pure fruit, bright and juicy. The name is a play on Vin de Soif (wine of thirst), and it's easy to see why. There are no hard edges here, just supple red berries to drink with bacchanalian abandon. Give it a bit of a chill and drink with or without food.
A love of wine, food and growing things eventually led Gareth and Rainbo away from a vastly different background involving scuba gear and seaweed. Their winery is situated in the Basket Range of the Adelaide Hills where they try to intervene as little as possible in the growing and making of the wines. They farm a number of small parcels in Basket Range, Forest Range and Ashton. They don't like to define their styles or wine making techniques, just make wine in the way they feel is right for the grapes and season and most importantly, with maximum drinkability and enjoyment in mind.