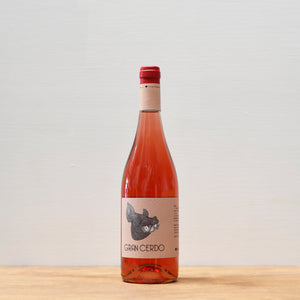 Country: Spain
Region: Rioja
Grape: 80% Tempranillo plus Garnacha and some others. 
Viticulture: Biodynamic Farming / Natural Wine
Winemaking: Vinified in concrete vats using indigenous yeasts. Kept as whole bunches so the juice bleeds from the skins were colour is optimal. Partial malolactic fermentation takes place. Unfined and unfiltered with a small amount of SO2 added. 
Sweet aromas of candy, strawberry and cherry. Well balanced acidity to cut through the vibrant fruits. It's just a great value summer wine that you can't go wrong with! 
Gonzalo Gonzalo is fiercely protective of the terroir of his family vineyards in North Spain. He's always done things differently ignoring the trends of the region and refraining from using chemical treatments and intervention in the winery.