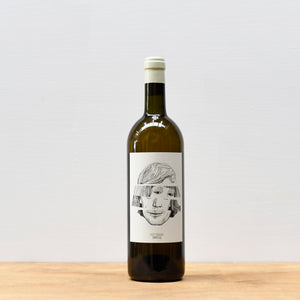 Country: Austria
Region: Burgenland
Grape: Gruner Vetliner, Pinot Blanc
Viticulture: Biodynamic Farming / Natural Wine 
Vinification: Grapes are hand-harvested // One part is fermented on the skins in wooden vats // The rest in wooden barrels // Ageing in wooden barrels for a year.
Family Reunion red is a blend of the young and old red grapes that go into Emmeram, Theodora, Timotheus and Mechtild. You get an amazing freshness from the younger vines with a rich complexity from the older vines. Lots of minerality, soft melon and perfectly balanced acidity. 
Gut Oggau is ran by Stephanie and Eduard Tescheppe-Eselbock. "It was love at first sight; I could have asked her to marry me immediately," says Eduard "we knew that we wanted to do something together, but we didn't have a master plan; becoming wine growers was fate". It was the old 17th-century winery and surrounding vineyards that found Stephanie and Eduard back in 2007, and the rest is history! 
Fortunately, there had been a year-long gap between owners, so the soils had the chance to be washed clean of the chemicals previously used. What was important to Stephanie and Eduard was that they didn't change the vineyard but instead discovered its natural potential. Right from the start, their approach was to work alongside nature and treat the soil and the vines gently and sustainably. They were astonished at how much character came through the barrels, even in their first vintage; each wine seemed so alive, beaming with its own personality - and so the Gut Oggau family was born. Each bottle featuring a portrait of a fictional family member, communicating the differences in terroir through the portraits on the labels.
75cl.