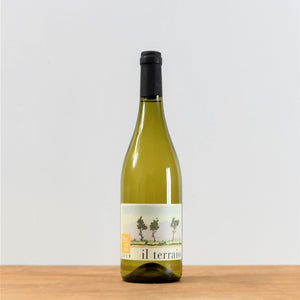 Country: Italy
Region: Tuscany
Grapes: Malvasia  and Trebbiano
Viticulture: Organic farming / Natural Wine 
Wine-making: Grapes are hand-harvested and pressed and fermented at low temperatures using indigenouse yeasts. 80% no skin fermentation, 20% skin maceration. Both parts blended and matured in stainless steel tanks. Bottled unfined, unfiltered with low sulphur levels. 
Floral nose, silky fluidity that fills the mouth and follows with a hit of refreshing acidity and a body that has notes of almonds, toasted and baked flavours.
Paterna is a small farm founded in 1978, which employs 5-6 people for seasonal works, agritourism, social farming and projects to preserve biodiversity. The vineyards are on the hills (300 meters) with the mountain behind them. The exposition is south – south/east. The soil is loose, deep and sandy with good structure of stones (sandstone).