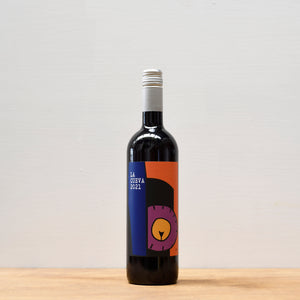 Country: Chile
Region: Colchagua Valley
Grapes: Pais 70%, 11.5% Carignan and 18.5% Cabernet Sauvignon
Vitivulture: Organic Farming / Natural Wine
Vinification: Grapes are destemmed and go through natural fermentation with indigenous yeasts. Aged in very old French Oak tanks. 
Pais provides the gentle fruit, Cabernet the structure and Carignan the colour and acidity. Easy drinking, fresh red with some structure and savoury character. 

La Patagua is a collaboration between Les Caves de Pyrene and Luca Hodgkinson (Metic). The idea behind this project is to create excellent value wines, as naturally as possible, that faithfully reflect the place they come from. Luca Hodgkinson is a French/English/Spanish expat, who consults for many wineries in Chile and has his own business sourcing grapes from sustainable and - in many cases - organic vineyards.