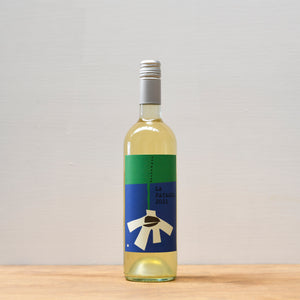 Country: Chile
Region: Colchagua Valley
Grapes: Semillon and Moscatel
Vitivulture: Organic Farming / Natural Wine
Vinification: The cooler climate Semillon is harvested a month before the Semillon. Pressed in whole bunches before fermenting in stainless steel tanks with natural yeasts. Short elevage in stainless steel before bottling. Unfined and slightly hazy, low sulphur levels. 
This blend looks to have the characteristics of the three grapes, Semillon for the fruit, Sauvignon for the freshness and acidity and the Moscatel to add extra floral fruity note and minerality.
La Patagua is a collaboration between Les Caves de Pyrene and Luca Hodgkinson (Metic). The idea behind this project is to create excellent value wines, as naturally as possible, that faithfully reflect the place they come from. Luca Hodgkinson is a French/English/Spanish expat, who consults for many wineries in Chile and has his own business sourcing grapes from sustainable and - in many cases - organic vineyards.