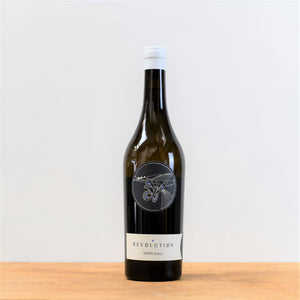 Country; Austria 
Region: Weinvertel 
Vintage: NV
Grape: Chardonnay 50%, Scheurebe 25%, Riesling 25%
Viticulture: Organic Farming / Natural Wine  
Vinification: Made using the solera system where wines of different vintages are blended together to keep consistency. Riesling has been used in this one since 2013. The Chardonnay is whole bunch fermented in oak barrels then left in steel for 10months, the Scheurebe has short skin maceration and the Riesling is from the solera 2013-2018 vintage blends. Unfined, unfiltered with no added sulphur. 
Full of apples, spice and a hint of smokiness. It's an amazingly complex wine with a slight creaminess on the palate and a super long finish that keeps on giving. Worth every penny!  

The Zillinger family have been running these vineyards biodynamically for 30 years.  First ran by Hans and now his son, Johannes - is an exceptional example of what 'natural' truly means. From home-made compost, to growing their herbs, they are guided by strong principles of biodynamic agriculture..
Johannes believes in letting nature going its own way. To help this process he aims to interfere in both vineyard and the cellar as little as possible. In his own words "if you work on healthy soil in the vineyard, you get healthy vines, which produce more exciting wines. And most of all, if you let the good things simply take their course in the cellar."