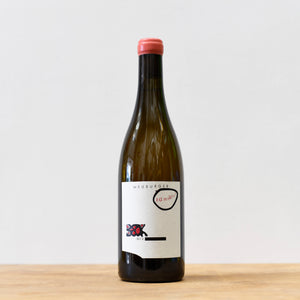 Country: Austria
Region: Burgenland 
Grape: Neuburger
Viticulture: Biodynamic Farming / Natural Wine
Wine making: Manual harvested grapes are destemmend and slightly crushed by foot. 10 days maceration with skins before fermentation in old wooden vats. Kept on lees for 1 year in old barrels before being bottled unfined, unfiltered with no added sulphur.  
Strong golden yellow with orange flecks, unfiltered, very aromatic, field herbs, passion fruit and lychee, soft tannins on the palate, mild acidity and good length.
Traditionally there were small mixed farms in the area, but they always grew vines. In 1975 Matthias Beck took over from his father and started to focus on wine only, they started with 5 ha. Today the Beck estate has 15 ha of vines. In 2001 Judith took over responsibility for the cellar after gaining experience in France, Italy and Chile.