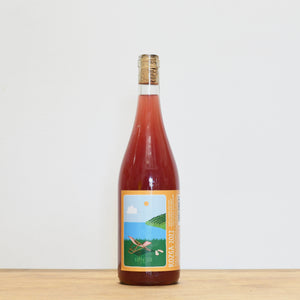 Country; Austria 
Region: Burgenland 
Grape: Rotburger 40% Blaufränkisch 40% St Laurent 10% Pinot Noir 5% Syrah 5%
Viticulture: Biodynamic Farming / Natural Wine  
Vinification: During harvest, all grapes are processed in the backyard. whole bunches go straight into screw press. no additives, no temperature control. Juice goes straight into fiberglass and stainless steel tanks. racking before fermentation kicks in. natural fermentation. no temperature control. All 5 components of ROZSA were mostly co-fermenting and matured on gross lees for 6-7 months without any additives, without fining and without filtration.
Strawberries and limes packed into a bottle. Nothing too sweet and very easy to drink!
Nested on the shallow slops of Burgenland next to the beautiful Neusiedl lake are the vineyards of Maria and Alex Koppitsch. Since 2011 they are preserving the natural wine making traditions that have been in their family for over 500 years now. 
Taking on the holistic approach – they make sure, that all the work at the vineyard is done with respect and immense amount of care. At the core of their ethics are biodynamic principles and persistent manual labour.
The soil on which the grapes are grown are sand, clay, loam and gravel – and as such, it reflects in how diverse the wines are.