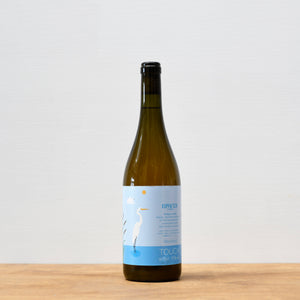 Country; Austria 
Region: Burgenland 
Vintage: 2019
Grape: 50% Welschriesling, 50% Gemischter Satz white (complex white blend of lots of varieties) 
Viticulture: Biodynamic Farming / Natural Wine  
Vinification: Whole bunches go straight into open top vats. Most are de-stemmed, but some kept as whole bunches for carbonic maceration (30%). Fermentation occurs naturally without any additives. After 16 days of maceration, the mash is pressed into small oak barrels. Maturation on gross lees for 10 months without any additives. No fining, no filtration and no temperature control at any stage of vinification. At bottling 5mg of sulfur is added.
Touch is a fun but elegant orange wine. On the nose hints of passion fruit and mango paired with creamy texture and a sprinkle of Malden salt on the finish.
Nested on the shallow slops of Burgenland next to the beautiful Neusiedl lake are the vineyards of Maria and Alex Koppitsch. Since 2011 they have been preserving the natural wine making traditions that have been in their family for over 500 years now.  Taking on the holistic approach – they make sure, that all the work at the vineyard is done with respect and immense amount of care. At the core of their ethics are biodynamic principles and persistent manual labour. Low intervention winemaking is the top priority when it comes to the cellar. Fermentation always starts naturally, no temperature control is used.  All of the wines are matured without sulphur and bottled without fining or filtration – as it was intended by nature.