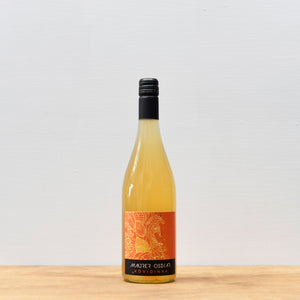 Country: Serbia
Region: Szeremseg 
Grape: Kovidinka
Viticulture: Organic Farming / Natural Wine  
Vinification:  The grapes are grown in old bush-vines that due to the dense planting it can only be cultivated with horses. An old autochthon variety, planted over 95 years ago on bush vines, that Oszkar cultivates with horses. After hand harvest, the bunches are de-stemmed and fermented on the skin for 6 days, followed by further ageing in large oak barrels for 8 months. Bottled without fining filtration or the addition of SO2.
The result is an easygoing, crisp, juicy orange wine, packed with fresh stone-fruit, hints of orange pill paired with delicate herbal notes and refreshing acidity.
Made by Oskar Maurer who creates incredible wines in Serbia using only natural wine making methods. The grapes are grown on old bush-wines which have to be cultivated by horses because of the dense planting. Soils are made up of loess, limestone and brown soil.