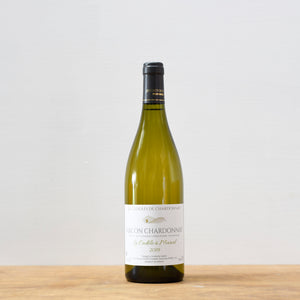 Country: France
Region: Burgundy
Grape: Chardonnay
Viticulture: Responsible farming 
Vinification: Manual harvest grapes are pressed for 40 minutes in a pneumatic press. Indigenous yeasts used and fermented in stainless steel. Malolactic fermentation takes place followed by 6 months maturation in stainless steel vats. Light filtration and fined with bentonite. 
Clean fresh modern Macon. Mineral, expressive nose with citrus fruit and white flower flavours. The palate has flavours of fleshy, tasty white fruits, combined with a lot of creaminess and full-bodied flavour.
Fourth and fifth generation vignerons, Patrick and Nicolas Laugère, have operated this family estate since it was entrusted to them by their uncle, Marcel, in 1987. In addition to the vineyards, Marcel also left them the task of maintaining the cadole, or stone vingeron shelter, which overlooks the vineyards. While these shelters are common in Mâconnais, (indeed there are three such structures on this estate) what's remarkable about this one is its position above, and incorporation of, an underground river. A pit, dug into the ground inside the Cadole, holds the river water and provides an indispensable water source for the vines during periods of extreme drought. Thanks to the ingenuity and thought put into the creation of Marcel's Cadole, the vineyards will never be short of water. To pay him tribute they christened their first Mâcon-Chardonnay vintage "La Cadole à Marcel".
Clay-limestone soils, South East facing, 30 year old vines.