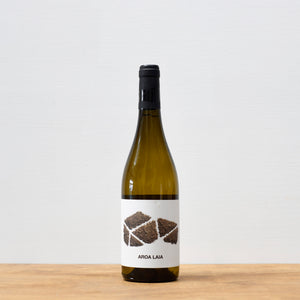 Country: Spain
Region: Navarra
Grapes: Garnacha Blanca
Viticulture: Organic farming / Natural Wine 
Wine-making: Grapes are hand-harvested and pressed and fermented at low temperatures using indigenouse yeasts. Bottled unfined, unfiltered with low sulphur levels. 
Tropical fruits, passion fruit, pineapple and mango with citrus notes of grapefruit and tangerine and soft mint. The palate has fresh acidity, peach and apple flavours and the finish has a salty quality.
Bodegas Aroa is a pioneer in the DO Navarra in organic and biodynamic farming. All the vineyards are organic and follow ancient methods, with only natural products used, allowing nature to do its work. Winters are cold and hard, and the summers dry and hot, with large differences in temperatures between day and night. The soil is clayey - calcareous, fresh, being on the edge of the Mediterranean climate with Atlantic influence climate, sheltered from the Urbasa and Andía.