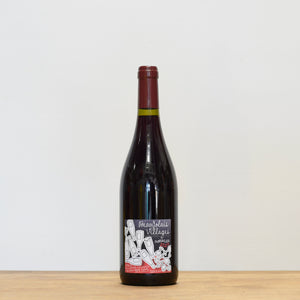 Country: France
Region: Beaujolais 
Grape: Gamay
Viticulture: Organic Farming / Natural Wine
Manual harvested grapes are carefully selected and loaded into the winery by conveyor to avoid any damange. Traditional method, whole bunch maceration. No added yeast during fermentation. Unfined and unfiltiered. 

Fresh fruit, floral notes and hints of spice. On the palate it is young, bright and light. A beautiful, perfectly balanced wine.
Jean-Claude Lapalu is a third-generation winemaker but only began his own domaine in 1996. Previously, his family had been grape growers selling to the cooperative. He didn't have a clear idea of the wines he wanted to make at that stage, only an idea of the wines he didn't want to make. It took him 5 or 6 years to get rid of the additives and interventions he'd learned about at the wine school he attended in Charentay. Altogether, he has 12 hectares of vines in total, most of which are old (60–80 years), and which are farmed organically.