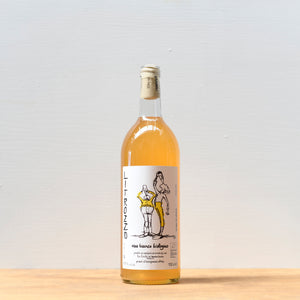 Country: Italy
Region: Gradoli, Lazio
Grapes: Procanico and Malvasia with a touch of Roscetto, Romanesco and Verdello Petino.
Viticulture: Biodynamic Farming / Natural Wine 
Orange wine. 
Wine-making: Grapes are hand-harvested and spend a couple of days on skins macerating. Followed by 9 months elevage in fibreglass tanks. Nothing is added at any stage of the winemaking process. 
This is bright and juicy with lots of citrus and crunchy fruits. 

Gianmarco Antonuzzi and Clementine Bouveron tend around 14 hectares of land with vineyards amongst olive groves, chestnut trees, shrubs and oaks. Volcanic soils, rich in iron and minerals. Everything is done by hand with careful attention to each plant (despite there being 10,000 vines per hectare). 

ABV 11%