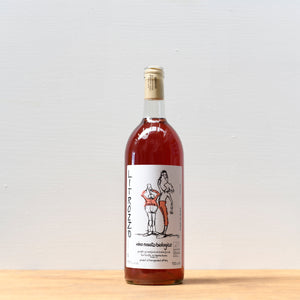 Country: Italy
Region: Gradoli, Lazio
Grapes: Aleatico, Sangiovese, Merlot and Procanico
Viticulture: Biodynamic Farming / Natural Wine 
Wine-making: A short, gentle maceration of Aleatico, Sangiovese, Merlot and Procanico that is pressed off to vat for a brief élevage. 
The most incredible cloudy shade of watermelon, it lures you in with lifted aromas of rose and minerals. Featherweight on the palate, there is a tart, sour quality to the fruit that is incredibly refreshing.
Gianmarco Antonuzzi and Clementine Bouveron tend around 14 hectares of land with vineyards amongst olive groves, chestnut trees, shrubs and oaks. Volcanic soils, rich in iron and minerals. Everything is done by hand with careful attention to each plant (despite there being 10,000 vines per hectare).