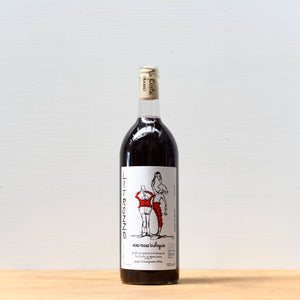 Country: Italy
Region: Gradoli, Lazio
Grapes: Sangiovese and Merlot
Viticulture: Biodynamic Farming / Natural Wine 
Wine-making: A blend of Sangiovese and Merlot that were destemmed and spent just a few days on skins, before being pressed off to cuve to rest until bottling in spring.
This really impresses with gentle floral notes, a cascade of berries black and blue, a hint of earth and funk. With plush fruit and just a little tannin, it is all one could ask for from a vino da tavola.
Gianmarco Antonuzzi and Clementine Bouveron tend around 14 hectares of land with vineyards amongst olive groves, chestnut trees, shrubs and oaks. Volcanic soils, rich in iron and minerals. Everything is done by hand with careful attention to each plant (despite there being 10,000 vines per hectare).